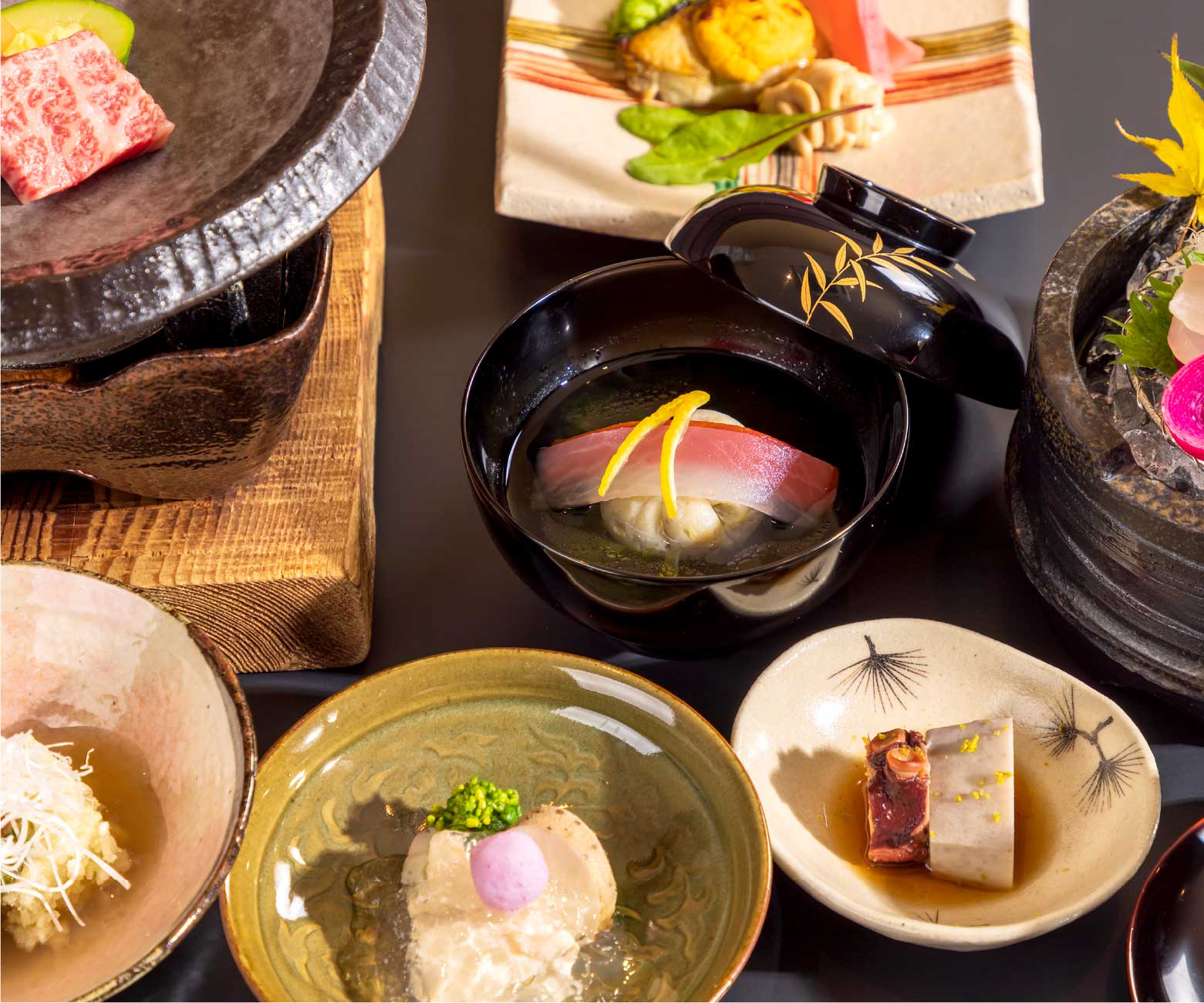 Seasonal Kaiseki to be enjoyed with all five senses
A variety of dishes prepared using local ingredients
Dining
Dashi and Ingredients
In the evening, we weave the essence of Japanese culinary tradition with contemporary flavors to create a Kaiseki dining experience.
For breakfast, you have the option to choose between a traditional Japanese or Western breakfast set.
Our experienced chefs, with years of expertise, combine their skills with a heartfelt touch, focusing on timing and precision. They use carefully prepared broth and local ingredients to create a collection of dishes crafted with dedication and care.
At Kinnotake Tonosawa, embrace the beauty of Hakone's changing seasons. Join us in savoring cuisine that pays homage to the rich culinary traditions of this region.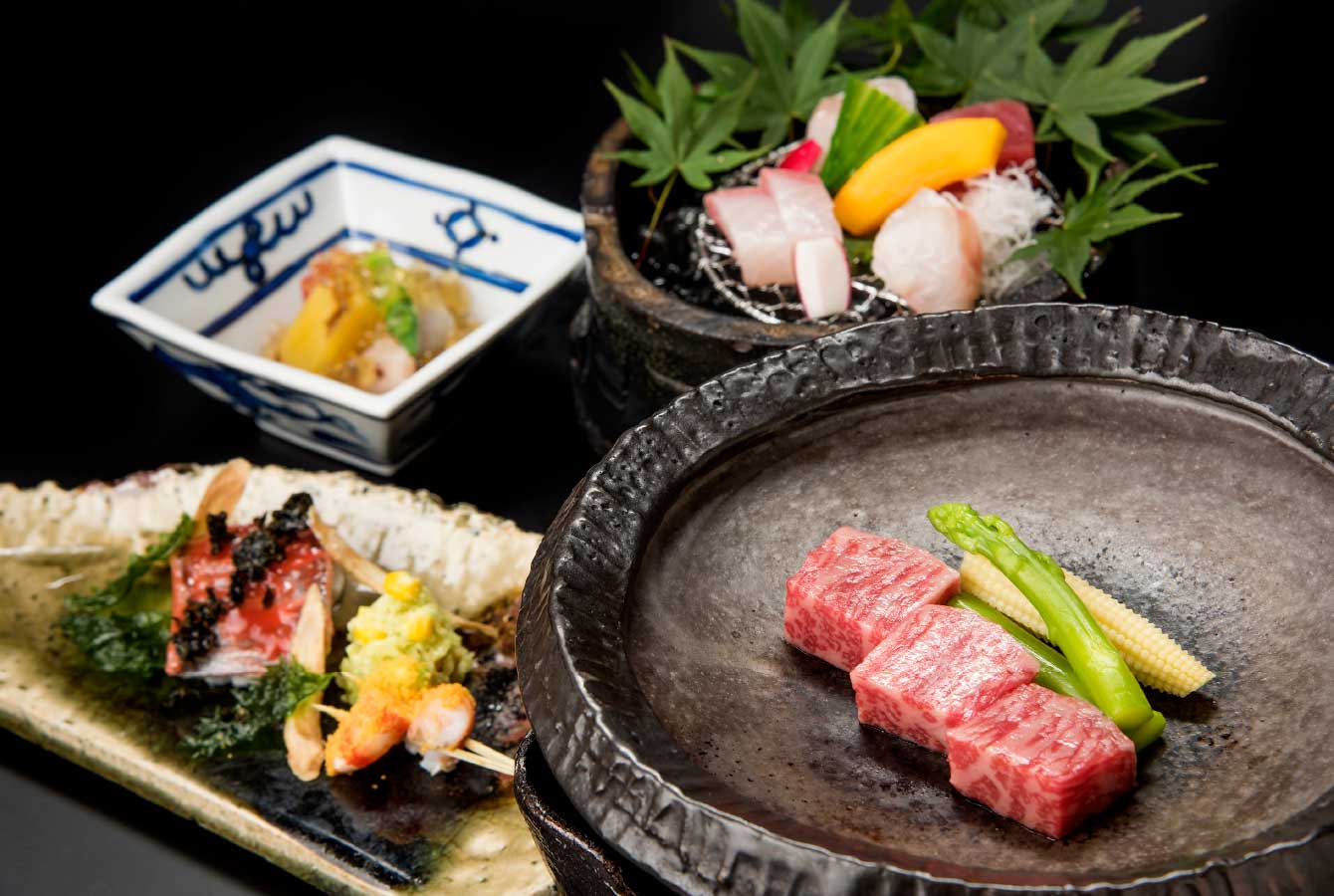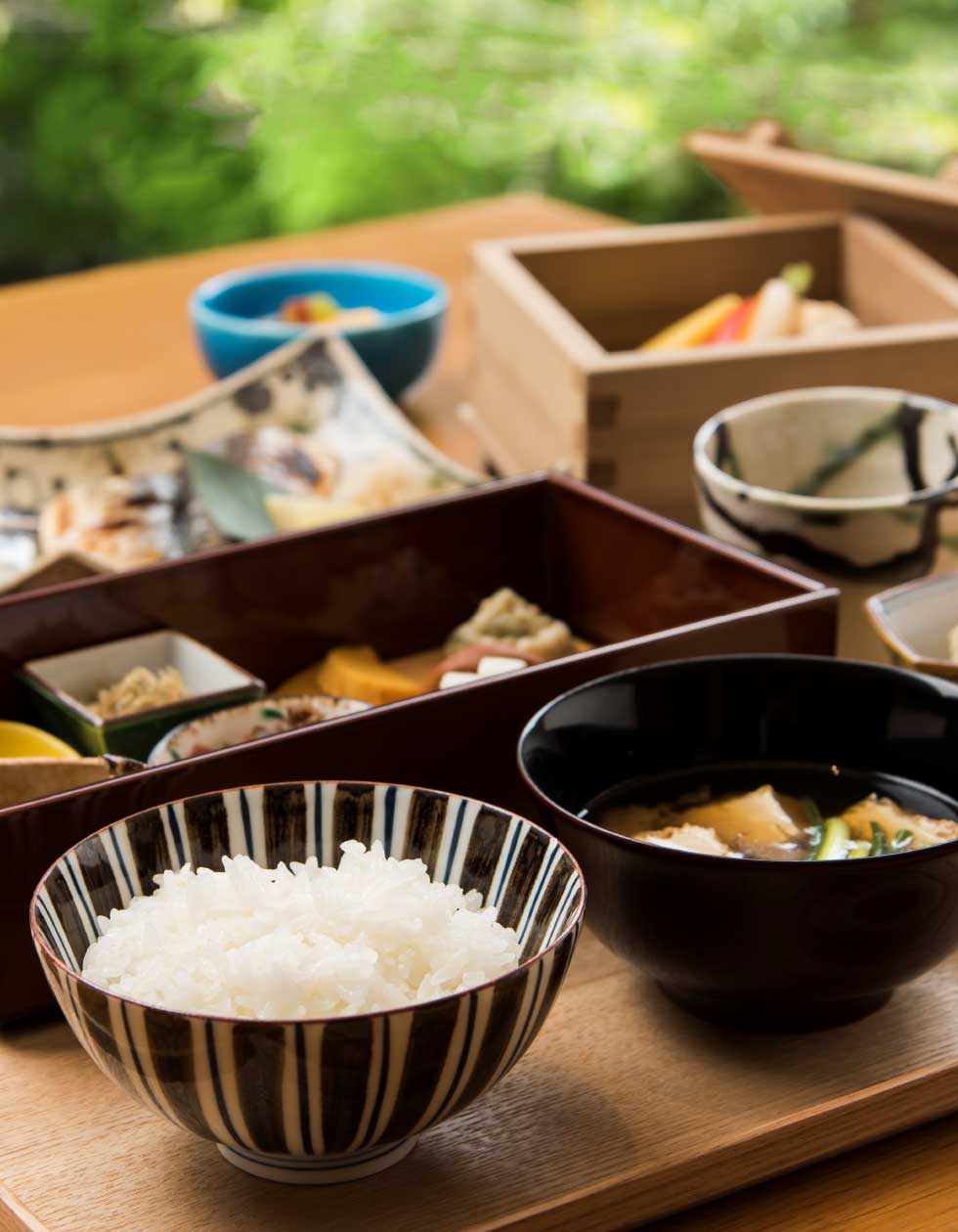 Carefully Selected Ingredients,
Dedication to Rice
Our focus on rice-centered 'Japanese cuisine' embraces Japan's rich culinary heritage. We consider it our vital mission to uphold this tradition in the hospitality of our ryokan.
At our establishment, the rice is meticulously chosen by the Five-Star Rice Master, Mr. Tsuchiya, from Tsuchiya Grains, who selects the most delicious rice according to the season and climate. This rice is then milled to perfection.
The resulting rice is characterized by its lustrous appearance, fragrance, plumpness, stickiness, and texture, all of which encapsulate a delightful sensory experience.
Menu
Seasonal Kaiseki Dining Sample
At Kinnotake Tonosawa, our standard for dinner revolves around the changing seasons, marked by the eight traditional Japanese solar terms: Risshun, Shunbun, Rikka, Geshi, Risshuu, Shubun, Ritto, and Tōji. We prepare a kaiseki menu that reflects each season's unique charm, allowing you to savor the bountiful, fresh ingredients sourced from the local sea and mountains.

Each dish, crafted with the expertise and heart of our chef, showcases the flavors of the season and invites you into a rich, delightful experience that encapsulates the essence of each passing season.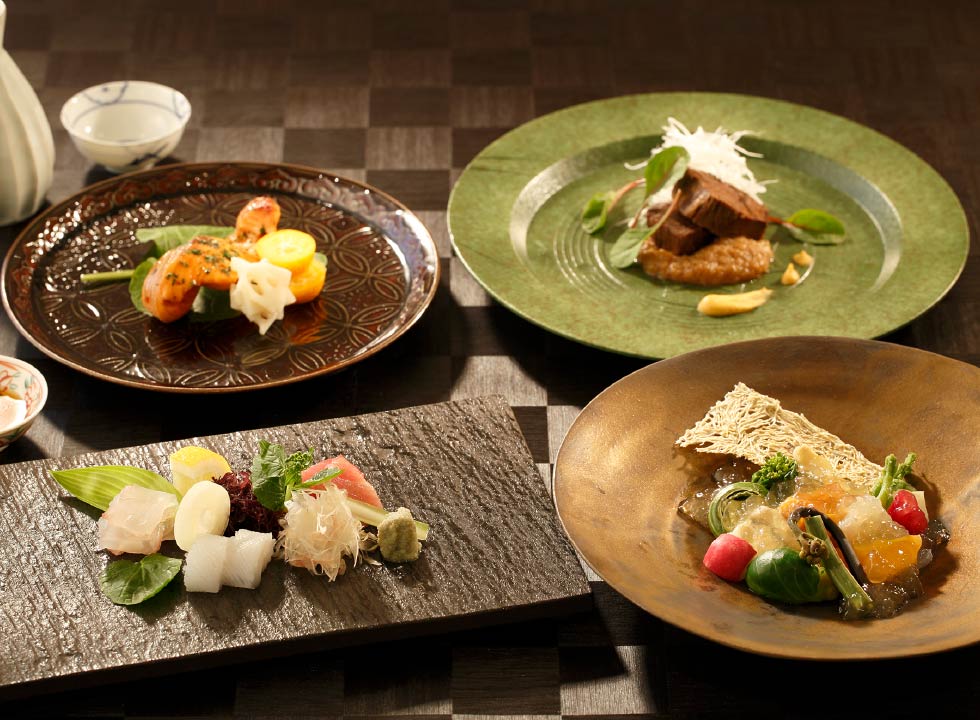 ---
Sample Menu - Wagyu Kaiseki
For those who want to savor the flavors of various seasons along with the joy of fine beef we have prepared a menu that elevates dishes featuring domestically sourced Japanese black wagyu. Enjoy an array of dishes showcasing the exquisite use of this premium wagyu beef.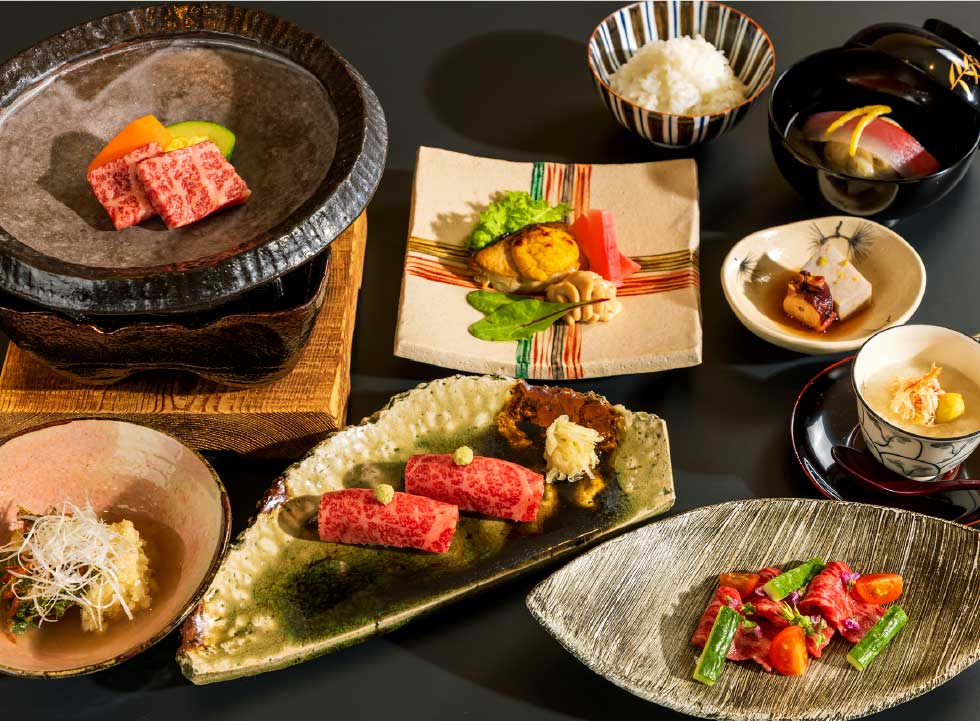 ---
Sample Menu - New Premium Wagyu Kaiseki
We've taken the main dish of the wagyu kaiseki, the teppanyaki-style meat, and upgraded it to feature A5-grade black-haired wagyu fillet from Kanagawa prefecture. Indulge in the luxurious flavors it offers.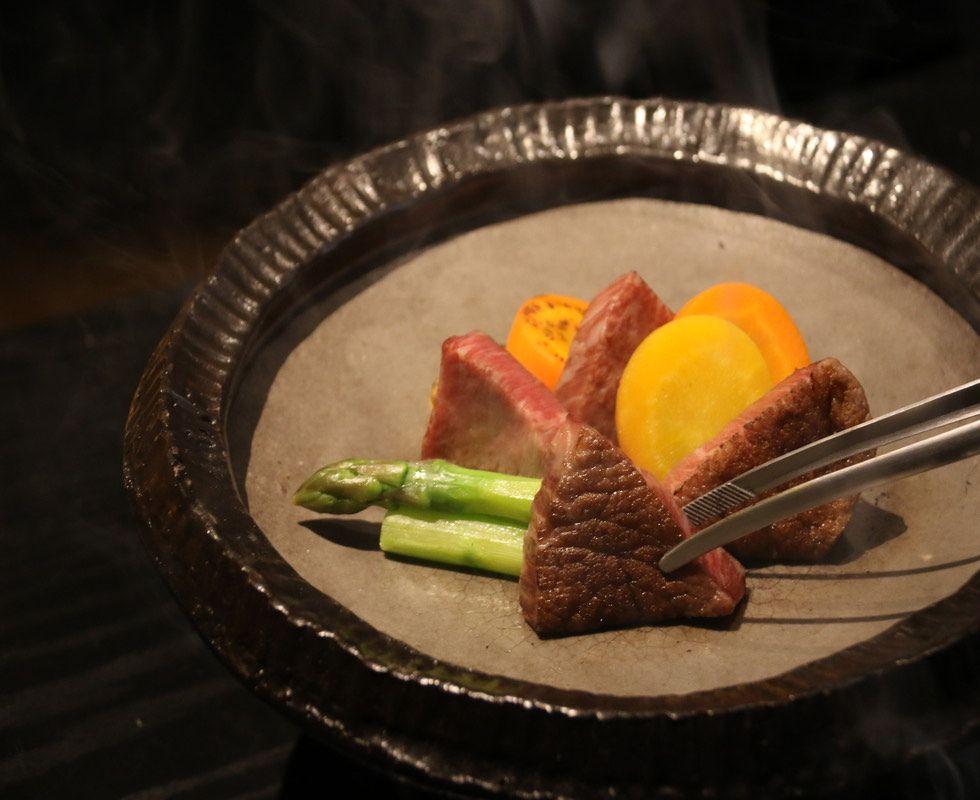 ---
Special Order Dishes
For those unforgettable moments, savor a unique dish at Kinnotake Tonosawa. We offer options like seared black-haired wagyu fillet, fresh lobster, and abalone sashimi, among others.
*You can place orders for these options through the reservation screen. (Please order seafood items at least 3 days in advance.)
Orders on the day of your stay are subject to availability. If you're interested, please inquire with our staff.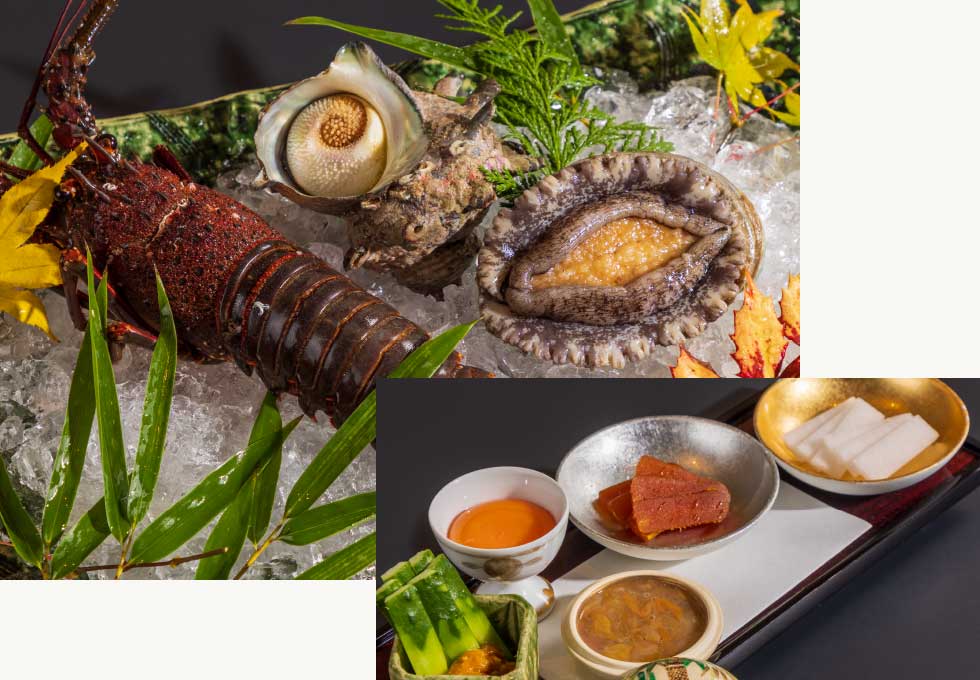 ---
Sashimi of Turban Shell (Sazae)

1,650 yen

Sashimi of Abalone (Awabi)

4,400 yen

Sashimi of Ise Lobster

8,800 yen

Bachiko (Kuchiko)

6,600 yen

Assorted Japanese three major delicacies Plate

8,800 yen

Kuroge-Wagyu Stir-fried beef fillet (80g)

5,500 yen
Grilled turban shell in a jar (Sazae)

1,650 yen

Grilled Abalone with butter (Awabi)

4,400 yen

Isoyaki Ise Lobster

8,800 yen

Daikon Radish with Salt-dried Mullet Roe

3,300 yen

Kuroge-Wagyu Beef Nigiri Sushi

2,200 yen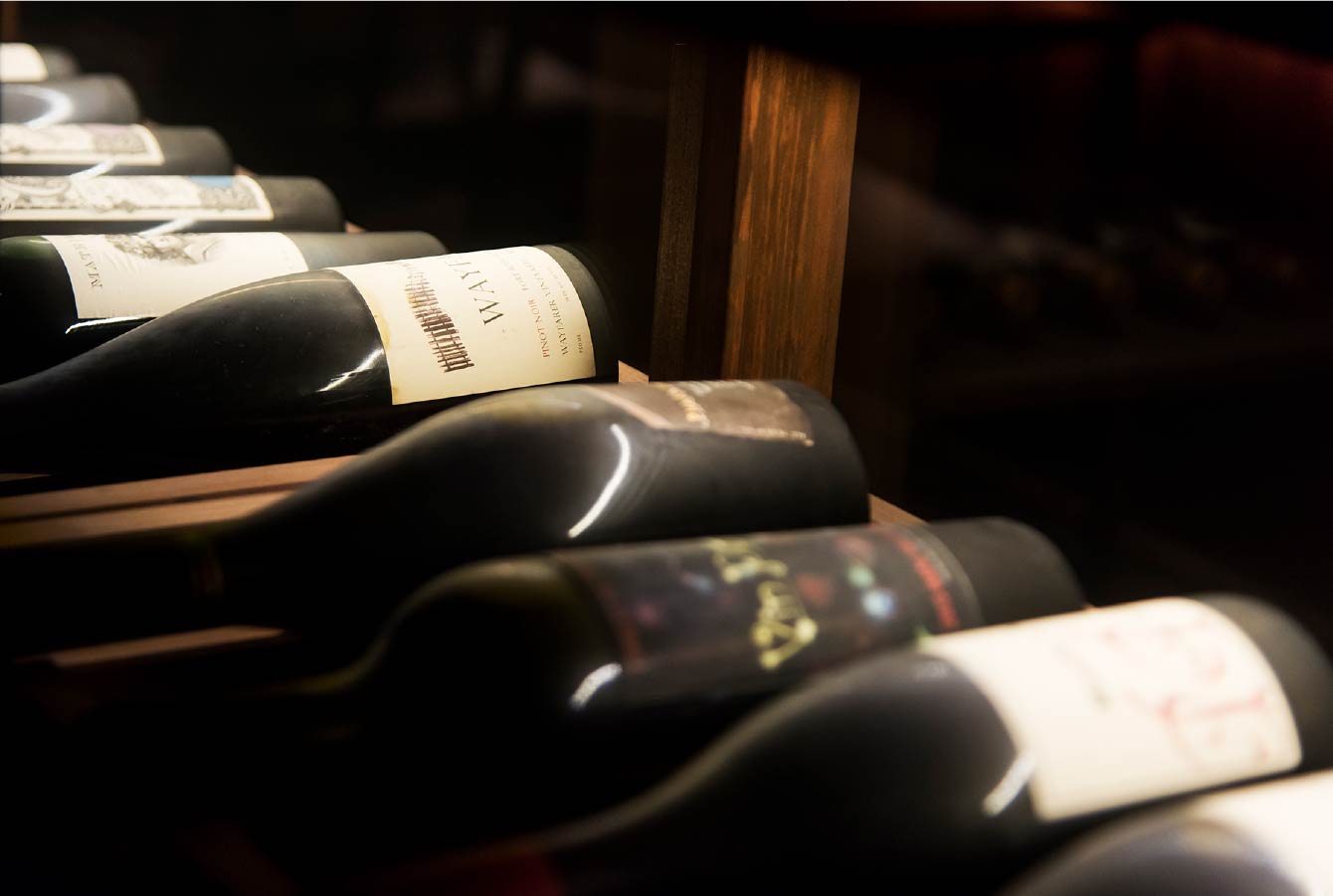 How about enhancing your dinner experience with the delightful companionship of carefully selected drinks?
Wines, Champagnes, Japanese sake

We offer a wide selection of wines, champagnes, Japanese sake, and local beers. To find your perfect drink, we recommend trying our 'Kikizake' (the practice of tasting) .
On the day of your stay, you can choose your preferred brand from the menu list.You can also place orders through the reservation screen. We accept orders on the day of your stay as well.
Local Sake "Kikizake" Selection

3 glasses of 60ml 2,530 yen

You can choose 3 brands from the list of Japanese Sake selected mainly from Hakone, Kanagawa Prefecture.

Premium "Kikizake" Selection

3 glasses of 60ml 4,400 yen

A selection of 3 brands from our premier sake list selected from all over Japan.

Wine Selection

4 Glasses of Wine for 8,800 yen

Choose any 4 wines from our glass wine list.
PAGE TOP
※ Kindly be informed that we are unable to host guests under the age of 12.
Cancellation Policy
4 to 7 days before

10%

1 to 3 day(s) before

50%

Same Day

100%
Check Availability